Public Lectures and Talks
2023
12th October, 'Viral Spiral: From Ovid to Covid', Ian Gulland Lecture Theatre (and online) Goldsmiths, University of London Lewisham Way London SE14 6NW, 6pm – booking here
Marina will explore stories of multiple transformations in and out of different bodies, and reflect on their significance in relation to today's concerns with fluid identities and interspecies contact and contagion: a group of metamorphoses in myths and legends features gods and in between creatures, who are not quite divine and not quite mortal either, who can change their shape multiple times. For example, Mestra, the daughter of Erisychthon, is given this gift by the gods when her father sells her, and she is able to elude the clients he panders her to.
This event will be in person but can also be attended online. (When you book, you can choose your mode of attendance; note that online attendees will not be able to ask questions.)
This lecture was originally scheduled for 19 January 2023: if you had registered then (in person or online), your booking is still valid, and you do not need to register again; if you are unable to attend, or wish to change mode of attendance, it would help if you emailed them at CCL@gold.ac.uk – thank you.
If you are interested in this lecture may also be interested in the Centre for Comparative Literature's series Sing in me, Muse: The Classical, the Critical, and the Creative, a series of talks, workshops, readings, discussions on the social, political and cultural relevance of the classics to our times.
19th June, 'Out of This World: Dancing into Fairylands', Frederick Ashton Lecture, The Wallace Collection/online, 7pm-8pm – booking here
Marina will be giving the Frederick Ashton Lecture this year, which is taking place at the Wallace Collection.

The Frederick Ashton Lecture Series was inaugurated by the Frederick Ashton Foundation in 2019 to both honour the memory of the choreographer Sir Frederick Ashton and advance public understanding and debate about the arts. Ashton's understanding of the human condition, his knowledge of historic style and the influences of artists with whom he collaborated, fed his genius. He was inspired when creating his ballets not just by music and movement but by a range of interests, including the visual arts, architecture, design, literature and poetry, and thus the subject matter of each biannual lecture is selected from the arts in their widest sense.

Previous lectures, presented in association with the Wallace Collection, have been delivered by Sir Nicholas Hytner on 'theatre' and Lord Berkeley of Knighton (the composer and broadcaster Michael Berkeley) on 'music'. Marina's lecture will focus on 'literature' and is titled: 'Out of This World : Dancing into fairylands'.
25th May, 'Archives, History and Memory in Memoir Writing', University of Reading @ The Museum of English Rural Life (Redlands Road Reading, Berkshire RG1 5EX), 5.30-7pm. More information here.
Join Marina as she discusses drawing on archives and the interweaving of history and memory in memoir-writing. She will be talking about her memoir, Inventory of a Life Mislaid, which focuses on her early years and uses memory and imagination as well as writing and objects to recreate the extraordinary world of her childhood and her mother's marriage into upper class English life. She has recently presented some of her family papers to the University book and publishing collections, relating to her father's work in establishing a branch of WH Smith's in Cairo after the Second World War.
A selection of artifacts from the WH Smith archives held in the University of Reading's Special Collections will be on display and attendees will have the chance to view this from 5.30pm. Refreshments will be available from 5.30pm and the talk will start at 6.00pm. This event is run in partnership with the Centre for Book Cultures and Publishing (CBCP) at The University of Reading.
Find out more here!
18th April, 'John Berger: Stop-Gap Man', An event to celebrate a special issue of Critical Quarterly (Volume 65, Issue 1)

Marina contributed her piece 'John Berger's Knowledge, or Listening in to the Voice of the (Female) Image' to a special Critical Quarterly issue on John Berger, available to read here! Edited by Leo Robson, other writers in the issue include George Prochnik, Lamorna Ash, Ben Lerner, Rebecca Liu and Jonathan Nunn.
30th March, 6.30 – 8.00PM, Centre of British Photography (49 Jermyn Street, London, SW1Y 6LX), 'Marina Warner in Conversation with Patrizia Di Bello: Jo Spence: Fairy Tales and Photography', Tickets £6 – more here
Marina spoke with with Patrizia Di Bello on the themes of fairy tales and transformation in Jo Spence's work, and its resonances in contemporary culture.
Patrizia Di Bello is professor of History and Theory of Photography at Birkbeck, where she looks after the Jo Spence Memorial Library Archive. Her book on Women's Albums and Photography in Victorian England (2007) was inspired by Jo Spence's writings on the family album. She is the author, with Charlene Heath, of 'The Work Which is Not One', in Photography and Collaboration, eds Mathilde Bertrand and Karine Chambefort, due out in 2024.
2022
15-16 December, European Alliance of Academies, Conference: The Freedom of Art in Times of War and Crisis, Akademie der Künste, Plenary Hall, Pariser Platz 4, 10117 Berlin (Germany). More here.
Since its foundation the European Alliance of Academies has been working for artistic freedom in Europe. In view of the Russian war of aggression against Ukraine, at the fourth joint conference, Alliance members will speak about the effects of the war on artistic freedom. How are the working conditions of artists changing? What can artists contribute to peace? What opportunities does the digital space offer? New strategies for European unification and cooperation will be discussed in lectures and debates.
Tuesday 6 December, book launch for Marina's Afterall 'One Work' publication, Helen Chadwick: The Oval Court, Richard Saltoun Gallery, 41 Dover Street, London, W1S 4NS, 6-8pm. More information here. Watch/ listen back to the conversation here.
To mark the opening of On Sexuality: Helen Chadwick & Penny Slinger, celebrated novelist, historian, and critic Marina Warner introduces her latest book Helen Chadwick: The Oval Court (Afterall Books) in conversation with art critic Louisa Buck.

In 1986 the Institute of Contemporary Arts in London showed On Mutability, a new, two-part commission by the artist Helen Chadwick (1954–1996). The installation interwove some of Chadwick's characteristic motifs – the female body (her own), the aesthetics of pleasure, the material variety and wonder of natural phenomena – and approached them in a spirit of provocative, radical and lavish flamboyance.

During the talk, Marina Warner will examine The Oval Court, one part of the ICA commission. Despite being recognised as a feminist monument of rare intensity, this work has rarely been shown or discussed since the author's catalogue essay for the original exhibition. Exploring The Oval Courts's richly layered composition, Warner will show how Chadwick's imagination has shaped many artists' ideas and ethics, and how she helped to shift conventional aesthetics and transvalue despised, even abominated forms.

Louisa Buck is a British art critic and contemporary art correspondent for The Art Newspaper. She was a jurist for the 2005 Turner Prize. She is also the author of a number of books on contemporary art, artists and the art world.
Friday 2 December, The Sarah Hughes Trust Lecture, 6-9pm, Royal Society of Medicine, 1 Wimpole St, London W1G 0AE. Book your place here (either join in person or online).
Join Marina's Sarah Hughes Lecture, discussing the role of mythology and writing as well as the influence of art on creative journalism as it relates to medicine and humanity. This session will also include the Sarah Hughes Trust Prize presentation. Also, enjoy a delicious optional dinner to socialise and network with fellow attendees and well-renowned speakers. Welcome and introduction by Dr Christopher Gardner-Thorpe, President of the History of Medicine Section, and chaired by Professor Roger Kirby, President of the Royal Society of Medicine.
Sarah Hughes, a journalist, died from breast cancer on 2021 at the age of 48. Her family and friends have raised funds for an annual lecture to be held under the auspices of the RSM History of Medicine Society. Sarah was a history graduate from St Andrews University and was fascinated by, studied and wrote about the human condition in all its manifestations, good or bad, real or imagined.
Saturday 26 November, 'Sally Bayley, Marina Warner and Tomiwa Owolade 'Memories' Fault Lines', Blackwell's, Broad Street, Oxford, 2-3pm
Marina was in discussion about Inventory of a Life Mislaid (2021), alongside Sally Bayley and Tomiwa Owolade. Sally Bayley is a fiction and non-fiction writer who lives on a narrowboat on the River Thames in Oxford. Her latest book, No Boys Play Here (William Collins, 2021) is the second part of a literary coming of age story that tells of a teen girl in search of her lost father and uncle. Tomiwa Owolade is a writer, critic and contributing editor to UnHerd. He is a New Statesman contributing writer and the author of the forthcoming This is Not America. His writing for the New Statesman includes analysis and comment pieces on various political and cultural subjects. More here.
Friday 11 November, 1-2pm, 'Oxford Reads for Rushdie: with Richard Ovenden OBE, Zadie Smith, Ian McEwan, Lisa Appignanesi, Phillip Pullman, Professors Dame Marina Warner and Dame Hermione Lee', Blackwell Hall, Weston Libriary, Broad Street, Oxford. Free to attend, more information here. 
Oxford Reads for Rushdie was a public event held by the Bodleian Libraries in support of the novelist Salman Rushdie.
It featured prominent figures from the literary world, alongside students from the University of Oxford, reading from Rushdie's works.
Held in solidarity with Salman Rushdie, who survived an assassination attempt in August 2022, and in partnership with English PEN, it follows an event at the New York Public Library organised with PEN America, held immediately after Rushdie was attacked, and an evening of solidarity organised by English PEN and others at the British Library in October.
The one-hour event was hosted by Richard Ovenden OBE, Bodley's Librarian at Oxford University. Readers will include literary giants such as Zadie Smith, Ian McEwan, Lisa Appignanesi, and Phillip Pullman, and co-hosts Professors Dame Marina Warner and Dame Hermione Lee, as well as Oxford University students.
Oxford Reads for Rushdie is the brain-child of Richard Ovenden, Professor Dame Hermione Lee, Emeritus Professor of English Literature at Oxford University, and Professor Dame Marina Warner, Distinguished Fellow of All Souls College at Oxford University and Professor of English and Creative Writing at Birkbeck College London. In hosting the event, the trio wanted to publicly mark both the Bodleian's and the University's longstanding commitment to protecting academic freedom of expression.
Thursday 10 November, 2022, 4-5pm, 'Oxford University English Society: In conversation with Marina Warner', Hollywell Music Room, Oxford, United Kingdom. Free. More information available here
6 October, 2022 'Strangers in a Strange Land: Displacement, Sanctuary, and the Traveling Tale', The Edward W. Said Memorial Lecture, 6.30pm-8pm, The Lantern, Lenfest Center for the Arts, 615 West 129th Street, New York, NY 10027
Edward W. Said wrote that he habitually felt "out of place" and in his memoir movingly explores the strategies and theoretical ideas the experience inspired. Marina Warner returned to Said's ideas about estrangement, the traveling tale and contrapuntal reading, through a reading of the Flight into Egypt. The legend spread through stories, cult, and pilgrimage and Memories of Mary/Mariam in Egypt live on in some form in both the Christian and Islamic traditions. In a time of ever greater displacements and tumult, this narrative offers a test case of storytelling's role in living through exile and dislocation, and surviving somewhere that is not home.
The Edward W. Said Memorial Lecture is given once a year in honor of the public intellectual and literary critic, Edward W. Said, who taught in the English & Comparative Literature Department at Columbia from 1963 until 2003. Professor Said was perhaps best known for his books Orientalism, published in 1978, and Culture and Imperialism, published in 1993, both of which made major contributions to the field of cultural and postcolonial studies. The Edward W. Said Memorial Lecture, annually organized by the Society of Fellows and Heyman Center for the Humanities, pays tribute to Professor Said by bringing to Columbia speakers who embody his beliefs and the legacy of his work.
The event is co-presented by Columbia University School of the Arts and The Society of Fellows and Heyman Center for the Humanities.
More information here.
21 September, 2022 Lecture on Jeanne d'Arc: Une Icône du feminisme?, Historial Jeanne d'Arc, Rouen.
7-9 September, 2022 Keynote speaker, 'Ted Hughes & the Time of Myth', 'Conversation with the World': 9th International Ted Hughes Conference, University of Huddersfield.
Programme available here
Sunday 31 July, 2022 8-9.30pm, Fairy Tales & From The Beast to The Blonde, The Last Tuesday Society, Zoom lecture, Tickets £5-10, or by donation. More here.
Marina Warner discussed her book 'From The Beast to The Blonde – on Fairy Tales and their Tellers', a landmark study of the history and meaning of fairy tales. Marina looks at storytelling in art and legend – from the prophesying enchantress who lures men to a false paradise, to jolly Mother Goose with her masqueraders in the real world. Why are storytellers so often women, and how does that affect the status of fairy tales? Are they a source of wisdom or a misleading temptation to indulge romancing?
Warner interprets the history of old wives' tales from sibyls and the Queen of Sheba to Charles Perrault, the Brothers Grimm, and Angela Carter. And with fresh new insights she shows us the real-life themes in the famous stories, which, she suggests, are skillful vehicles by which adults have liked to convey advice, warning, and hope – to each other as well as to children.
13-17 July, 2022 (Wednesday-Sunday), Once and Future Fantasies Conference, University of Glasgow, full programme available here.
Once and Future Fantasies is the first conference co-sponsored by the International Association for the Fantastic in the Arts (IAFA) to take place outside North America. The conference  was hosted by the Centre for Fantasy and the Fantastic at the University of Glasgow. The keynote speakers were the amazing Nalo Hopkinson and Professor Dame Marina Warner. Read more on their website, here! Aside from these two keynotes, the conference offered workshops, roundtable discussions, and panels covering all aspects of the fantastic. Marina's talk, 'Fantasy and Danger: The Quest for Sanctuary' is available (with a transcript) to watch back here.
Friday 8 July, 2022 The Arabesque in Art & Design History, The Arts Club of Chicago, 12.15-1.15pm (CDT) / 6.15-7.15pm (BST) – more here
The arabesque in aesthetics describes the branching interlace chiefly found in Islamic art, and has acquired slightly pejorative connotations, as purely decorative on the one hand, and orientalizing and condescending on the other. The word was later borrowed into the world of dance to evoke a certain graceful and extreme extension of the limbs. In the series of programs surrounding artist Kamrooz Aram's exhibition currently in The Arts Club's galleries, we heard from British scholar Marina Warner, an author of fiction and cultural history. Marina exlpored the history of the term's changing meaning and consider its potential as a site of consciousness well suited to the digital age. Could the arabesque offer an alternative structuring principle of time and space in our troubled times?
Tuesday 28 June, 2022 NYRB: Marina Warner presents "Esmond & Ilia" with Frances Wilson, hosted by Community Bookstore, 5pm ET / 10pm BST, online.

Marina Warner presented Esmond and Ilia: an Unreliable Memoir, in conversation with biographer and critic Frances Wilson. This virtual event, presented as part of Community Bookstore's ongoing series with New York Review Books, took place on Zoom and has been uploaded onto their YouTube channel, where you can watch back here!
Friday 24 June, 2022 RAFT: Seeking Refuge – On Sanctuary, Song and The City (Marina Warner + Nawroz Oramari in concert, accompanied by Mikey Kirkpatrick and a performance of Deptfordia by John Bently), 7-11pm, Horse Hospital, Tickets: £7/£15 – more here

Where do we seek shelter when our concept of home, land and belonging fall apart? In these times of turmoil and upheaval, Marina Warner joins Chiara Ambrosio on her Raft, to set off on a journey through storytelling, song, and the powerful, transformative, and redemptive power of the imagination as a tool with which to build solid refuges and plant defiant gardens. This discussion was followed by a live performance by Kurdish singer Nawroz Oramari (joined by Mikey Kirkpatrick). As a teenager in Iraq in the 1970s, Oramari was told he'd be executed if he was caught singing in his native tongue, eventually having to cross many borders in his quest to sing freely. He is a member of the Citizens of the World Choir. At the end of the evening, John Bently gave a performance of Deptfordia.
This event is part of the Raft Festival programme (see the main festival page on their website for full listings).
Monday 20 June, 2022 Writing, Fairy Tale and Rococo: Marina Warner Reflects, Wallace Collection (Hertford House, Manchester Square, London W1U 3BN), 6.30-7.30pm, in-person and online – more here!
In conjunction with the Wallace Collection's exhibition Inspiring Walt Disney: The Animation of French Decorative Arts, Marina Warner reflected on fairy tale, rococo and her own writing practice.
This talk was also broadcast live from the museum. Online ticketholders also received a link to view a recording of the talk, available for one week only.
Thursday 16 June, 2022 Heroic Speech: The voices of women from Joan of Arc to Shahrazad, University of Lille, Seminar « Femme, femme, femme » : images, clichés, genres », 1pm BST / 2pm CET, in-person and online.
Tuesday 7 June, 2022 Leonora Carrington and the Metamorphoses of the Body and Humanity, 10am-noon, Teatro Piccolo Arsenale, Venice – the programme can be found here.
Marina joined a panel introducing Leonora Carrington's life and work, which is filled with hybrid creatures that cross species and states of being, examining points of contact between the artist's universe and the theme of metamorphosis that runs through the 59th International Art Exhibition in Venice, The Milk of Dreams.
Welcome and introductory remarks by Cecilia Alemani, Curator, The Milk of Dreams. Conversation between Joanna Moorhead, journalist and author; and Marina Warner, award-winning writer of fiction, criticism and history; moderated by Angela Vettese, art critic and Professor at the Università Iuav di Venezia, with an audience Q&A.
Wednesday 25 May, 2022 Image and Object Symposium: Purity, Rainolds Room, Corpus Christi, 5-6.30pm

Purity is an illusion. No matter how hard we try, our thoughts, feelings and actions involve complex, unquantifiable mixtures. In the physical world too, very little can readily be described as "pure". The pollution of the planet extends to the pollution of bodies. New-born babies feed on breastmilk containing substances intended to stop furnishings from catching on fire; there are pieces of plastic in our food and in our digestive tracts. Even in chemistry labs, 100% purity is extremely hard to achieve.
Yet we continue to cling to purity. Although the notions of racial purity that once dominated the discourse on human difference are now only defended by fringe few, ideological and cultural purity remain valuable ideas. Appropriation, with its connotations of hybridity and plurality, has become a dirty word. All the while, detox treatments and spiritual healing modalities promise purity as a pathway to happiness.
Hosted by the History of Art department, this year's annual Image & Object Symposium brought together four speakers from across the University of Oxford with different disciplinary backgrounds: Meleisa Ono-George (Queen's College), Maryanne Saunders (Lincoln College), Eleanor Tingle (St. Peter's College) and Marina Warner (All Soul's College). Each spoke about a particular image or object that raises the multivalent question of purity, followed by a Q&A.
Thursday 5 May, 2022 Salusbury World Annual Conversation, 7-8.30pm, St Luke's Church, Fernhead Road, London, W9 3EH – information available here.
Salusbury World works with refugee and migrant families, helping children, young people and parents to realise their rights and potential. They are the only school-based refugee charity in the UK so we are uniquely placed to work with whole families. Their work is effective because their services are joined up to provide integrated educational, social and practical support. Marina will be giving their second Annual Conversation, with the inaugural event having taken place last May, with Christy Lefteri. That conversation is available to watch here.
Thursday 31 March, 2022 6.30pm, Joan of Arc, icon of feminism? at Historial Jeanne d'Arc, Rouen (online)

Marina gave a talk on Joan of Arc for the museum dedicated to the historical figure, in Rouen, France. Marina spoke about Joan of Arc in the context of feminism, asking whether the spirit of Joan of Arc, heroine of suffragists and suffragettes at the beginning of the 20th century, reappears in today's young girls, leaders of global movements, such as Malala Yusufzai and Greta Thurnberg. Marina took a look at the cult of Joan, promoted by the art of Sylvia Pankhurst in England and the sculpture of Joan Vaughn Hyatt Huntingdon in the United States, and will explore the cultural and psychological links between the feminist movement of the last century with the calls has the freedom of women and the protection of the environment made so passionately by the Johannine avatars of our days.
Explore the Historial Jeanne d'Arc here.
Monday 7 March, 2022 12:30-1:20pm IST / 7-7:50am GMT, Jaipur Literature Festival
Marina discussed her book Inventory Of A Life Mislaid: An Unreliable Memoir with biographer, historian and publisher Jenny Uglow. The festival programme (5-14 March) this year was brimming with brilliant events, including Colm Tóibín in conversation with Tishani Doshi and Elif Shafak in conversation with Nandini Nair. Have a browse of their physical/online festival via this link. A recording is available on their YouTube page, here.
2021
9-10 December, 2021 'Words on the Move: Play, Imagination & Stories in Times of Dislocation and Conflict', Kunst & velferd Conference, Oslo Metropolitan University, Norway
Marina presented as part of the Kunst & velferd (Art & welfare) conference, speaking about the project Stories in Transit and the collective Giocherenda. The shared approach of both groups combines visual arts, performance, puppetry, and gesture, to communicate stories that are freely invented and embroidered; the emphasis falls on imaginative and collaborative processes. Marina described the story-generating games and methods Stories in Transit has developed, placing them in a cultural context. She also invited the audience to take part in one of these generative processes.
Read more about the conference here.
Saturday 4 December, 2021 Repair and refuge: The Spirit of Stories, Winter Tales Book Festival, 4-5pm, Assembly Hall, Edinburgh
Marina spoke about Inventory of a Life Mislaid and more generally her work on storytelling and sanctuary. Marina addressed questions such as 'Do imagination and invention have a role in memoir writing? Can life come close to fairy tale – not in relation to the happy ending but to the suffering and the struggle?' Edinburgh's Winter Tales festival offers a wide and diverse programme, which took place 3-5th December. The event was free and booking was on eventbrite here.
Tuesday 30 November, 2021 The Flying House of Loreto, The Last Tuesday Society, The Viktor Wynd Museum, 8-9.30pm, online
When the house in Nazareth where the Annunciation took place and Jesus grew up with Mary and Joseph was threatened by unbelievers, angels picked it up and carried it to safety, finally setting it down on a hillside overlooking the Adriatic, in Loreto. The relic of the Flying House of Loreto, inspired one of the most popular pilgrimages in the world until Napoleon sacked its treasury to pay his army. The holy House itself also appeared In Walsingham, Norfolk, and like its Italian counterpart, also became a huge draw and a very very rich cult site, which was laid waste in the Reformation. Marina will tell the story of this holy house and its 'wondrous flittings' in relation to ideas about losing home and remaking it, exile and settlement. Book here
Friday 26 November, 2021 Inventory of a Life Mislaid, Italian Cultural Institute, London, 6-8pm
Marina was in conversation with Stella Tillyard, Sally Bayley and Charles Burdett about her book Inventory of a Life Mislaid (2021), chaired by Katia Pizzi. This event took place at the Italian Cultural Institute (39 Belgrave Square, Londra SW1X 8NX). Read more about the speakers who joined Marina and the event here.
Monday 22 November, 2021 Cambridge Union, 7.30pm, info here
Marina spoke about identity and belonging at the Cambridge Union. The event consisted of a lecture and Q&A, and welcomed members, anyone within the English faculty, The Isis Magazine, and the Oxford and Cambridge review of books, and was held in the Cambridge Union library.
Saturday 20 November, 2021 If Once Upon A Time Starts Now, How Do We Get to Happy Ever After?, Yorkshire Festival of Story, 7-8pm, online
Marina joined fairy tale scholar Professor Jack Zipes and Professor Cristina Bacchilega from the University of Hawai'i-Mānoa to share their collective knowledge of fairy tales and navigate how they may be harnessed to offer a brighter future. Storyteller Sita Brand facilitated this unique event, which was shared online. More information here.
Wednesday 17 November, 2021 Inventory of a Life Mislaid, Yorkshire Festival of Story, 7-8pm, online
Marina was in a live streamed discussion about her most recent publication, Inventory of a Life Mislaid: An Unreliable Memoir, where she gave a reading and shared images from her childhood. With themes relevant to the current discussions about nationalism and the stories history tells, about remembering and re-imagining the past, this event traverses borders, moves through decades, and unfolds the hopes and struggles of Esmond and Ilia. Find out more here – and have a look at the rest of the event line-up while you are on the festival website!
23 September, 2021, 3.30pm– Chipping Campden Literature Festival, Montrose Suite, Cotswold House Hotel, £8
Marina will be presenting her most recent publication, Inventory of a Life Mislaid as part of the festival based in the ancient town of Chipping Campden, nestled in the tranquil and rolling countryside of the North Cotswolds. More information available here.
July 30, 2021 62nd Yeats International Summer School, Sligo – 'Speaking the Faery tongue", Jul 30, 2021 08:00 PM Dublin time, on Zoom
For the first time since its inception, the Yeats International Summer School will be taking place online. Between 29th and 31st of July, a number of seminars and lectures will take place via zoom, including seminars by Philip Coleman, Lucy Collins and Guy Beiner. Marina will give one of the lectures, on July 30th at 8pm Dublin time, via zoom. More information about events and schedules can be found here. Tickets for select events and seminars are available here.
16 July, 2021 Mary Magdalene and Her Jar: Fragrant oils, Luxury and Sin, Rua Red Gallery: the Magdalene Series Active Research Programme
Watch the talk on YouTube.
19 June, 2021 – Sophie Collins, Irenosen Okojie, Mireia Calafell, Anna Gual: Poetising the Tomorrow, Kosmopolis 21
What words do we need for thinking about the future? Are the concepts and ideas of the past of any use or must we create new ones to name another possible world? Where will we find these words that have not yet been spoken? During the Thinking Biennale, the CCCB promoted the project of audiovisual creation A Vocabulary for the Future, which set into dialogue some thirty local and international thinkers, writers, and visual creators so that they could imagine together an alternative, more hospitable future. Marina will give the starting signal for this poetic and audiovisual recital where Collins and Okojie will read their texts by videoconference, accompanied from the CCCB by the poets Mireia Calafell and Anna Gual who will lead the session. More info and tickets can be found here.
9 May, 2021 – 'Artistic Freedom in Europe', organized by the European Alliance of Academies
The European Alliance of Academies is using the occasion of Europe Day to advocate for the freedom of art. What legal and political opportunities are there to defend it? How can artistic collaboration take place in the digital space? What role does Europe play for artists? Political and artistic possibilities for action will be discussed in collaboration with the European Center for Constitutional and Human Rights (ECCHR) and Alliance stakeholders from all over Europe. Marina, alongside a number of representatives and stakeholders from culture and politics in Europe, will give a talk in reference to Artistic Freedom in Europe. The recording will be made available online as of May 9th. More information and links to the recording available here.
5-7 May 2021 – European Humanities Conference, Lisbon
More information available here.
28 April, 2021 7-8pm – UEA (University of East Anglia) Live: Marina Warner in conversation with Sophie Herxheimer
Marina Warner presented her family memoir 'Inventory of a Life Mislaid' with the book's illustrator, Sophie Herxheimer. Alison Winch, UEA Live co-director and lecturer in Media Studies at UEA, chaired the event. More information available here. Here is a blog post by Sophie about the event, complete with pictures as a preview.
A lovely write-up of the event, by Melissa Erdem, can be found here.
24 March, 2021 – LRB Screen at Home Season 3: Messages in a Bottle, featuring Marina Warner on Stanley and His Daughters, 2018
LRB Screen at Home is back for the hopefully finally stretch of lockdown. Over the course of twelve weeks, host Gareth Evans will introduce a special guest in conversation alongside a remarkable documentary drawn from the vast archive of hundreds of films made under the banner of BBC TV's Arena, the world's longest-running television arts series. On 24 of March, Marina's contribution will talk about how Stanley Spencer's visionary art, his obsession with his work and intense private life wreaked havoc on his family. We follow his daughters' relationship – fractured, fraught but ultimately loving – as they try to understand and reclaim their father and investigate their family's emotional archaeology. (Dir. Francis Hanly). More info and tickets for the series are available here.
18th March – 17th April, 2021 – Marina speaks about The Bird Game
Film and Video Umbrella and the Rothschild Foundation are pleased to announce a month-long online screening of Marianna Simnett's The Bird Game (2019), accompanied by a new film Confessions of a Crow (2021), where writers Marina Warner, Charlie Fox and James Bridle, artist Lindsey Mendick, and composer Oliver Coates speak eloquently about The Bird Game's overlapping themes, which range from the insidious impact of new digital technologies to the enduring power of fantasy and mythology, and focus on the hypnotic, addictive and increasingly sleepless hyperactivity of contemporary life.
March 15, 2021, 7pm-8.30pm, The Last Tuesday Society, The Viktor Wynd Museum – Marina Warner on Mary Magdalene and her Jar: Fragrant Oils, Luxury and Sin
In a new, fully illustrated zoom lecture Marina Warner uncovered the long associations of balm with the pleasures and solace of the East, which her parents were seeking when they moved to Cairo after the war. Available to watch back here.
11 March, 2021, Cambridge Union Debate – The Hype around Shakespeare is Much Ado about Nothing
Shakespeare is widely held to be the greatest literary genius England – and indeed the world – has produced, as well as constituting a fundamental component of the performance and research of English here at Cambridge. Over four centuries since his death, it is important to look back on this legacy and interrogate whether – and why – this should be the case. The debate will be lead between Ben Crystal, an English actor, author, and producer, and Professor Michael Dobson, Director of the Shakespeare Institute in proposition, opposed by Marina Warner and Professor Kiernan Ryan, Emeritus Professor of English Literature at Murray Edwards College, Cambridge in the debate.
More info can be found here.
March 3, 2021 – World Book Day
Marina gave a Ten-Minute talk with the British Academy, which can be listened back here.
2020
3rd September 2020 – CULTURAL SNIPING: Photographic Collaborations in the Jo Spence Memorial Library Archive – live discussion with Marina Warner now online
Marina joined a roundtable with Patrizia Di Bello, chaired by Lynda Nea on "Cinderella: Women, Class and Fairy Tales in Jo Spence's work" at the Peltz Gallery on April 18th back in 2018. A full video of the roundtable can be watched here.
30 July 2020 – RCA MA Writing: Creature, Stranger, Monster, Other
Marina joins a discussion with MA Writing students Fiona Glen, Hattie Gibson, Laura Robertson and Yin Ying Kong about feminism, animism, horror and folklore. Details can be found here, the talk in full is available here.
19 June, 2020, 3pm-4pm – Culture in Crisis? (British Academy Zoom Webinar)
As part of the British Academy's Shape the Future programme, this panel examines the societal, economic and cultural implications of the pandemic. The panel is chaired by Dr Matthew Sweet, the speakers are Marina, Professor Isobel Armstrong, Professor Ian Christie FBA, Professor John Sloboda FBA. More details and video recording can be found here.
29 February, 2020: 'No man's land – No, nor woman's neither: Is there a refuge in words?' – Marina speaks at Dissent in Dark Times: A Festival of Critical Thought, Birkbeck College, London
In collaboration with the London Review of Books, Birkbeck, University of London is delighted to announce two days of critical thought about the times we are living in. You are invited to join leading thinkers in their fields for a stimulating two days of talks and conversation. Confirmed speakers: James Meek, Anne Wagner, Nadine El-Enanyon, Marina Warner, Jeremy Harding, Esther Leslie, Jacqueline Rose and Karma Nabulsi. Members of the public and academics alike are invited to come together to listen, learn and contribute to a unique debate about the role of dissent in facing the challenges of our contemporary world.
19 February 2020, 6pm-7pm – 100 Years of University of London Lecture Series
In February 2020 Birkbeck will mark 100 years since the College officially became part of the University of London. A series of celebratory events on the theme of "opening education" will showcase Birkbeck's unique commitment to access and excellence, including a lecture by Marina Warner on February 19th.
Tickets are available here.
2019
27th November
Art as Public Service, with Ben Quash and John Gilhooly, Westminster Abbey
23rd of November
Opening Talk: Paula Rego – Obedience and Defiance, Edinburgh, with Marina Warner and Catherine Lampert.
More info about the even can be found here. A video of the talk can be found here here, the audio version can be listened to here.
21st November, 2019
George Eliot at 200 – Conference at the Institute of English Studies
Full programme and registration here.
16th-19th November 2019
Kadin Yazisi II – Feminaming Writing II Festival, Istanbul
Marina Warner in conversation with Özge Lena, 17th November, 4.30pm-5.30pm
More info here
6th November 2019
Irish Humanities Alliance – Marina launched the IHA's Humanities Strategy: "By imagination we live: A strategy for the humanities, 2020–2030", Royal Academy, Dublin.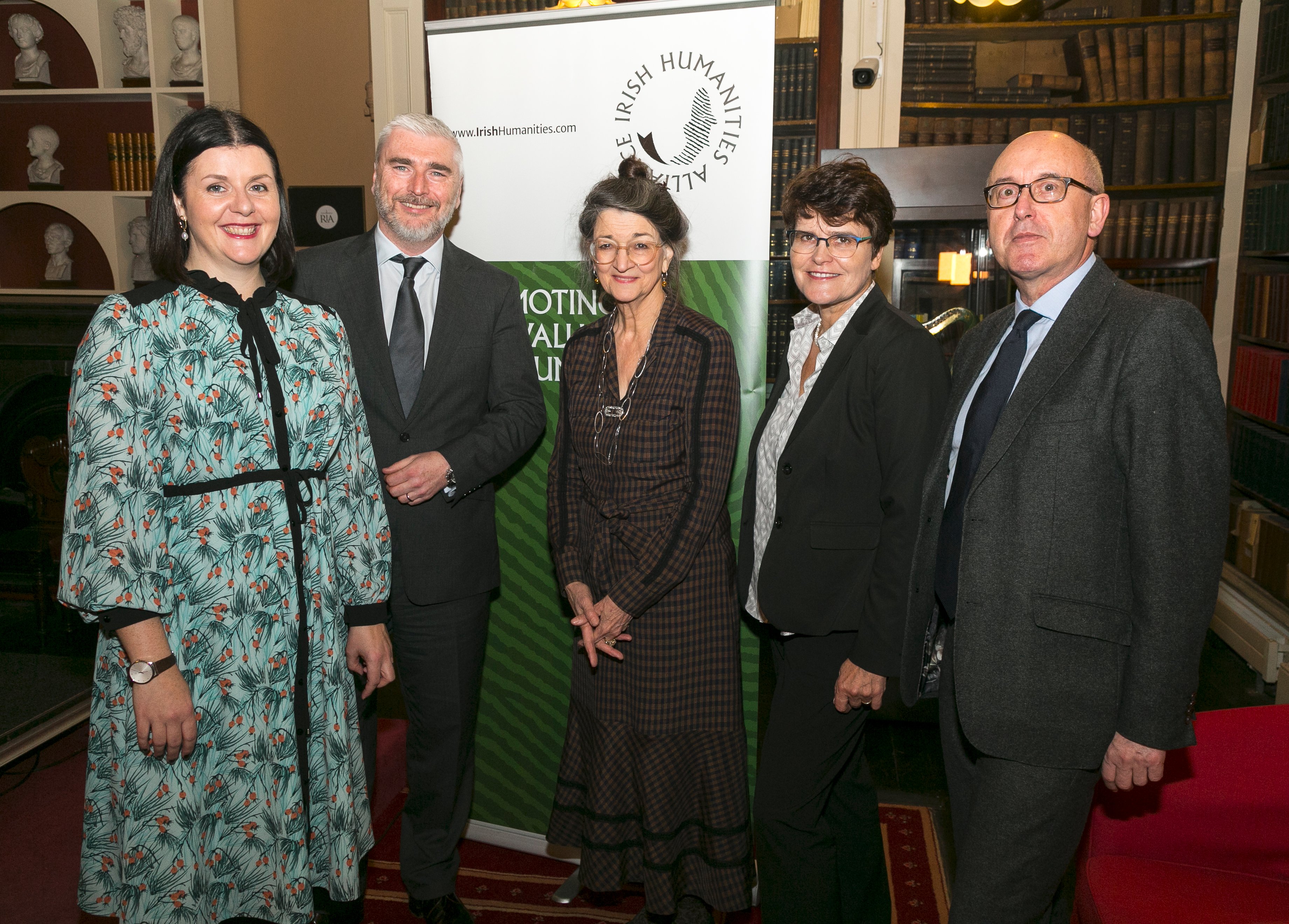 Further information can be found here. An interview with Marina on the occasion was broadcast on RTE Radio and can be listened to here.
30th October 2019
Marina gives the Barbara Harrell Bond Memorial Lecture at the Refugees Studies Centre, Oxford
A recording of the lecture is available here.
25th October 2019
Marina gives the Denis Mack Smith Memorial Lecture at the Italian Institute
23rd October 2019
Thinkers for Our Time – Christina Rossetti at the British Academy
Marina in conversation with Isobel Armstrong of the series
25th September 2019
Blackwell's Bookshop Marina Warner 'Why words matter: The life of stories in dislocated times'
Marina will talk about literature as border crossing, a site of exchange, and a way of making a community of fate
21st September 2019
Berlin talk, info tbc
Fata Morgana: Fairy Visions of the Mediterranean from Marina Warner
Sicily, the largest island in theMediterranean, has verb a site of exceptionally rich cultural exchange. In the 19th century, Laura Gozenbach began collecting local fairy tales and translating them into German; er publication influenced the course of the European fantasy. She herself was inspired by the activities of Giuseppe Pitre, a doctor from Palermo and a pioneer of literary ethnography. Marina Warner will sift their remarkable anthologies and draw out the interactions of Arabic, Arthurian, and romance traditions, with a special focus on tase about the world under the sea, where Morgan Le Fay, King Arthur's half-sister, who conjures illusions of castles in the air over the Straits of Messina.
29th August 2019
A Festival of Colchester – Marina Warner 'Beyond the Visible: Art, Artists and Enchantment'
Marina gives a talk about Forms of Enchantment at First Site Colchester
21st August 2019
Thinking with art: Marina Warner at Edinburgh International Book Festival
A new collection of essays by Marina Warner uses the tools of literary thinking to analyse art and artists, drawing on anthropology, mythology and more. In Forms of Enchantment, the President of the Royal Society of Literature approaches works by artists like Louise Bourgeois and Hieronymus Bosch, asking what effect they can have in the world. Warner discusses her ideas with Fruitmarket Gallery director Fiona Bradley.

17th August 2019
BBC Proms Plus Talk at Imperial College Union – 'Wish Upon a Tsar – The Power of Russian Folktales' with Marina Warner and Sophie Anderson"
Russian folktales – such as 'Baba Yaga', about a demonic woman – continue to influence Slavic life and culture. Young Adult author Sophie Anderson, whose book 'The House On Chicken Legs' is based on the Baba Yaga story, tiptoes into the woods with Marina Warner, author of Once Upon A Time: A Short History of Fairytale.
12th July 2019
In Conversation: Luminary Drawings: Portraits of Film Directors at National Portrait Gallery
Artist Nina Mae Fowler talks to film critic Simran Hans about her new display of portrait drawings of leading film directors and the sittings in which each was depicted whilst watching a film of importance to them. They will be joined by one of her sitters, director Asif Kapadia, and Dame Marina Warner, former Trustee of the National Portrait Gallery who proposed the commission of the drawings.
15th June 2019
Enchanted States: The Vision of Fairy TalesMarina Warner in conversation with Catharine Morris
The ZEE Jaipur Literature Festival 2019 at British Library
Art writing at its most useful should share the dynamism, fluidity, and passions of the objects of its enquiry, argues Marina Warner in her new anthology Forms of Enchantment: Writing on Art and Artists. She captures the visual experience of the work of a diverse group of artists―with a notable focus on the inner lives of women―through an exploration of the range of stories and symbols to which they allude in their work. In conversation, the award-winning critic discusses her writing, artists and the social, political, and aesthetic contexts of art. Introduced by Catharine Morris, the award-winning critic discusses her writing, artists and the social, political and aesthetic contexts of art.
Presented by Bagri Foundation

22nd May 2019
Birkbeck Arts Week 2019: Siren voices with Aura Satz – rewiring memories of technology
With Marina Warner, artist and Royal School of Art lecturer Aura Satz will discuss her project 'Preemptive Listening', a sound and film work on siren signals in relation to hyper-vigilance and emergency. Satz is working collectively with musicians, historians, philosophers, neuroscientists and more to explore the siren sound as a perceptual trigger of high alert, structuring attention in a state of emergency and inducing affective states of fear and dread, but also as a compositional signal operating at the threshold between civil obedience and disobedience. She posits the siren's loud glissando wail as a conditioned and learned signal, one that can potentially be rewired. This event is part of Birkbeck Arts Week 2019
11th-12th May 2019
'Critical Thought in Times of Attrition' A University Weekend at Birkbeck
University of London, at the heart of London's Bloomsbury, in collaboration with The London Review of Books
Over the past few years, political events – Brexit, Trump, austerity, the rise of neo-fascism and rascal across the world, continuing violence against women, climate change, the ongoing exploitation of the Global South – have cast a dark shadow over the world, making it all the more urgent for intellectual life to preserve a space for dissent.
4th April 2019
The New School University Center
The Center for Public Scholarship at The New School invites you to it's 38th Social Research Conference.
From the earliest moments of humanity's search for answers and explanations, we have grappled with the unknowable, that which we are unable or not permitted to know. What does the history of the unknowable look like? What are the questions once thought to be unanswerable that have been answered? Are there enduring unknowables and if so, what are they?
22-31 March 2019
Marina contributed to  Pripovedovalskifestival, the 22nd Story-telling festival in Slovenia.
'Marina Warner will enrich the Festival with her critical thought and present her current research on Friday, 22 March, Saturday, 23 March, and Monday, 25 March.'
18th March 2019
Ali Smith and Marina Warner in conversation chaired by Jacqueline Rose (Birkbeck Institute for the Humanities)
Clore Management Building, Torrington Square, London, WC1E 7HX
Ali Smith and Marina Warner are writers who have both engaged with the issue of refugees and migrants in our time. Ali Smith has been centrally involved with the campaigning group Refugee Tales, which publishes the stories of individual refugees about their experiences of migration, trafficking and detention. Its main target is ending indefinite detention in the UK. Through Stories in Transit, a project which began in 2016 in Palermo, Sicily, Marina Warner has worked with refugees there and in London, trying to develop a method and establish a forum for expression, narrative and performance. Both are trying to take part in creating 'a language of welcome' at a time when policies of this government here and elsewhere are seeking to normalise xenophobia and intolerance. In this conversation they will discuss the work to be done to generate spaces of potential understanding and modes of resistance around one of the most vexed issues of modern times.
15th March 2019
In Conversation: Dame Marina Warner and Jennifer Scott at Dulwich Picture Gallery
Inspired by the mythic symbolism of Harald Sohlberg's work, join author and historian Professor Dame Marina Warner and Jennifer Scott, Dulwich Picture Gallery's Sackler Director, for a conversation about mythology and enchantment in the arts. Drawing upon Warner's book, Forms of Enchantment; Writings on Art and Artists, the pair will discuss the work of Harald Sohlberg and the power that symbols and stories have within today's culture.
16th February 2019
Art as fulfilment: the use of religion and spirituality in contemporary art at Royal Academy of Arts, London
The preoccupation with fundamental questions of life is often central to an artist, their work and their audiences. Join our panel, including Marina Warner and Professor Ben Quash, as they examine how artists and the public might "use" contemporary art as a means to express and reflect on religion and spirituality.
Art can challenge our beliefs and provoke debate. For an artist, art can be a place where personal thoughts and beliefs can be expressed and problems can be detoxified. Our panel questions whether an audience can achieve an emotional or spiritual connection through art? Are they more likely to visit a museum than a place of worship? In contrast, what is intended when contemporary art is shown in a place of worship? Can we find meaning in the fundamental questions of life through art?Panellists include writer, historian and mythographer Marina Warner, and Professor of Christianity and the Arts at King's College London, Ben Quash.
6th February 2019
Narrative Intelligence – A conversation with Marina Warner, Shezad Dawood and Marc Davis, moderated by Nick Hackworth
The fourth in a series of talks organised by ArtReview and Modern Forms. From the birth of writing to recent developments in VR and the narrative capabilities of Artificial Intelligence, technology has the power to radically alter the nature of the stories that we tell about ourselves and the world. Artist Shezad Dawood and technologist Marc Davis join the writer and academic Marina Warner to discuss the complex relationship between technology and storytelling.
2018
15th November 2018, 6.30pm
Panel Discussion at British Academy
Thinkers for our time: Goethe
Johann Wolfgang von Goethe (1749-1832) is recognised as the greatest German literary figure of the modern era. An innovative writer of European stature in almost every genre from poetry to autobiography, and an early enthusiast for world literature, Goethe was also an impassioned investigator in many areas of natural science. As a self-declared 'citizen of the world', Goethe's body of work, and openness to the world, continue to inspire and resonate today. Chaired by Ritchie Robertson, our panel will discuss his life and legacy.
Thinkers for our time is a series re-thinking the life and work of influential figures from across the Academy's disciplines, particularly history and the arts. This is the sixth in the series, following events exploring Sigmund Freud, Mary Wollstonecraft, Thomas Malthus, Sylvia Pankhurst and Charlie Chaplin.
More information here
2016
14th December 2016
Visiting Pilkington Professor of Art History, Marina Warner
Marina's first event will be a public lecture, 'Sanctuary: Places of Safety, Zones of Exclusion'
1st – 4th December 2016
Moscow: British Council authors' trip to the Book Fair
Lecture by Marina Warner "Travelling Tales and Flying Carpets: Words on the Move". British Council Russia, 4th December 2016, The State Tretyakov Gallery. 
Myths, folklore and fairy tales are filled with impossible fantasies, irrational beliefs and savage scenes; yet they are an archive of human thinking about human existence. Marina Warner, following some of the roads stories have travelled, will explore the power of reasoned imagination, its capacity to connect with real life experience, and to redraw ideas of love, justice, and fate. More info here. Stream the lecture on YouTube here.
3rd November 2016
The David Fickling Lecture – Marina Warner – Stories on the move: suffering, sanctuary, danger
Can myths, legends and stories provide alternative shelter? Can literature offer sanctuary in times of dislocation and loss? A place where a refugee, a migrant, or a wanderer might feel at home? In today's geopolitical upheavals, when millions of people are on the move, how do narratives travel between cultures and languages?
Available to listen back to this lecture here
13th June 2016, 2pm
Aby Warburg 150: Work, Legacy and Promise at The Warburg Institute University of London
On 13-15 June 2016, the Warburg Institute celebrates the 150th anniversary of the birth of Aby Warburg. At the centre of this commemoration we are holding a conference dedicated to his work and heritage. It will reclaim the centrality of Warburg's thought and vision not only for the London Institute but for the world of international scholarship. A large group of distinguished scholars will discuss the implications of his thought for the history of art, images and cultures. The aim will be not only to illuminate the past, but to reveal the potential of his writings for the debate about contemporary cultural differences as well.
Speakers: Andreas Beyer, Horst Bredekamp, Robert Darnton, Lorraine Daston, Georges Didi-Huberman, Frank Fehrenbach, Uwe Fleckner, Kurt Forster, David Freedberg, Carlo Ginzburg, Christopher Johnson, Philippe-Alain Michaud, Peter Miller, WJT Mitchell, Andrea Pinotti, Ulrich Raulff, Elisabeth Sears, Quentin Skinner, Anke te Heesen, Martin Treml,Martin Warnke, Marina Warner, Claudia Wedepohl, Sigrid Weigel and Cornelia Zumbusch.
Weidenfeld Chair in Comparative European Literature Lecture by Marina Warner, held at St Anne's College Oxford.
13th May 2016 – 14 May 2016
Marina Warner on 'The Bearer-Beings': Portable Stories in Displaced Times'
Watch the recording of this talk below:
12th May 2016
Marina Warner will be the Humanitas visiting professor of Comparative European Literature for 2015-16
She will deliver a series of three lectures on the theme of 'The Sanctuary of Stories', exploring myths and myth-making. Dame Marina Warner delivers the inaugural lecture of her series on 'the sanctuary of stories'. Find more here. Watch back here, or below:
11th May 2016 5.30-7pm
Marina Warner on The Sanctuary of Stories: Asylums and Edges
4th May 2016 5.30-7pm
Marina Warner on The Sanctuary of Stories: Enclaves and Moorings
Watch the lecture on the The Weidenfeld-Hoffmann Trust's YouTube channel here.
27th April 2016 5.30-7pm
Marina Warner on The Sanctuary of Stories: Worlds of Words at St Anne's College, Oxford
Marina Warner is an award winning novelist, short story writer, historian and mythographer, who works across genres and cultures exploring myths and stories. Recent work has focused particularly on the magic of fairy tales and the Arabian Nights, including Stranger Magic (2011), and Once Upon a Time (2014). In Fly Away Home: Stories (2015) she draws on mythic predecessors, translating them into contemporary significance. In 2015 she was awarded the prestigious Holberg Prize, and was also Chair of the judging panel for the Man Booker International Book Prize. She is a Quondam Fellow of All Souls, and Professor of English and Creative Writing at Birkbeck College, University of London.
Watch the talk over on YouTube, here.
8th of March 2016 6.30-8pm
RCA Visual Cultures Lecture Series 2015/16
Rise up & Envision – Arabesque – Catherine David & Marina Warner
Gorvy Lecture Theatre, RCA Dyson Building
For the forthcoming Visual Cultures Lecture Series we are pleased to welcome Catherine David & Marina Warner who will present their recent research and discuss gender, politics, and contemporary art. The conversation will be chaired by Margarita Gluzberg, Research Tutor at the RCA School of Fine Art. The lecture is free and open to all – it will be live broadcast by this is tomorrow.
More information here.
2015
3rd December 2015
Reading the World: Changing the Dynamics of Canon Formations – Keynote Address
A video and audio podcast is now available for the 'Reading the World: Changing the Dynamics of Canon Formations – Keynote Address', held on Thursday 3 December 2015 at the School of Advanced Study, University of London.
Speaker(s): Co-chairs: Professor Rose Levinson (PhD), Professor Francesca Orsini (PhD), Marina Warner.
This podcast is now available on the SAS website, YouTube and iTunes U. All details can be found here.
June 9th, 2015
Holberg Prize Lecture: "Losing Home, Finding Words: Transformations of Story", held at the University of Bergen.
A video of the lecture can be watched here.
2013
30th September 2013
'Voices without Borders – Travelling Tales and Literary Heritage', Institute of Modern Languages Research, School of Advanced Study
Several of Boccaccio's stories include special motifs and plots with links to the Arabian Nights. Above all, the general character of his storytelling reveals lively interactions across linguistic and political borders. Can literature offer a contrasting perspective on the conflicts of the past? Where are the borders in the sea of stories? Marina Warner will look at ways in which customary oppositions and divisions are treated in the wonder tale or marvellous fictions of the Mediterranean. Organised in conjunction with the conference 'Boccaccio and Company: An Introduction to the Decameron' at the British Library. Listen to Marina's talk on YouTube here.
17th April 2013
Keynote lecture by Prof. Marina Warner: "Burning the many-coloured fish: Re-readings in the 1001 Nights." Edward Said Memorial Conference, Utrecht, 17 April 2013. What is this lecture about? "Is there a political vision for today in the stories of the Arabian Nights? Can Edward Said's thoughts on contrapuntal interpretation and late style be applied to these fairy tales. Is oriental fabulism a form of polyvalent allegory? The Victorian translators and editors of the book were demolished by Said in Orientalism. But he expressed admiration for other interpreters, and new editions, such as that by Andre Miquel and Jamel Eddine Bencheikh in 2005, have revisioned the book with sensitive awareness of its context and meanings. Marina Warner will explore the question of the Nights in our time of antagonism, with special attention to 'The Prince of the Black Isles' in which a multicultural city is first destroyed, then restored." Edward Said Memorial Conference was organised by the Centre for the Humanities at Utrecht University as one of the Treaty of Utrecht commemoration events on 15-17 April 2013. More information available at: http://cfhutrecht2013.com/. Watch back here or below:


2012
Distinguished Lecture Series, University of Warwick, April 2012
'The Tales Things Tell: Charmed Goods in the World of the Arabian Nights'
Genies appear in the Quran, the apocrypha, folklore and mystical literature, but probably the best known appearances of them in literature are in the Arabian Nights. In her Distinguished Lecture Series talk, Marina Warner explains why genies are inexorably linked with objects such as Aladdin's lamp.
SINGLE LECTURES
Marina Warner has given many other lectures and seminars and participated in conferences in the UK, Ireland, Italy, Spain, Germany, France, the Netherlands, Norway, Sweden, Australia and the United States, in universities and institutes including, for example, the Getty Museum, the National Gallery London, Universities of Edinburgh, Glasgow, and St Andrew's.
Marina has lectured for the British Council, in Japan, the University of the West Indies (Jamaica, Barbados, St Lucia), Germany, France, Belgium, Italy, and the Ukraine.
Readings, panel discussions, and debates at the Institute of Contemporary Arts, London, The Purcell Room, London, Cheltenham Literature Festival, Edinburgh Books Festival, et al.
Alan Marre Maccabaeus Lecture: 'Stranger Magic: The Psychic Geography of Darkness', University College London, 2005
Carpenter Lecturer, Institute of the Visual Arts, Harvard University, 2003
The Perrot-Warrick Lecture at Trinity, 1998
John Coffin Lecture, University of London, 1997
INVITED LECTURES
Robb Lecturer, University of Auckland, 2004
Clarendon Lecturer, Oxford, 2001
Tanner Lecturer, Yale University, 1999
BBC Radio 4 Reith Lecturer: 'Managing Monsters', 1994 – listen back here.