13th December 2019
Marina judges
"Choix Goncourt du Royaume-Uni" 
London
12th December 2019
Introducing Malories Blackman at the British Library RSL Literature Matters event, info here
December 2019
Publication of Kiss & Part (Canterbury Press), which includes MW story 'Buck Moon'
What does it mean to 'kiss and part'? This collection of previously unpublished short stories from a stellar list of contemporary women novelists is a literary celebration of the spirit of place. Each contributor shares one thing in common – they have all stayed at a small cottage in the village of Clifford Chambers near Stratford-upon-Avon, courtesy of a trust set up to provide women writers with `a room of one's own', as Virginia Woolf put it. Clifford Chambers was the home of the Jacobean poet Michael Drayton, who incorporated the phrase `Kiss and part' into a sonnet. Each of the ten short stories in this collection takes this as its theme and the result is wonderfully eclectic mix of storytelling of the highest quality.
All royalties go the Hosking Houses Trust to further encourage women's writing.
27th November
Art as Public Service, with Ben Quash and John Gilhooly, Westminster Abbey
23rd of November
Opening Talk: Paula Rego – Obedience and Defiance, Edinburgh, with Marina Warner and Catherine Lampert.
More info about the even can be found here. A video of the talk can be found here here, the audio version can be listened to here.
21st November, 2019
George Eliot at 200 – Conference at the Institute of English Studies
Full programme and registration here.
16th-19th November 2019
Kadin Yazisi II – Feminaming Writing II Festival, Istanbul
Marina Warner in conversation with Özge Lena, 17th November, 4.30pm-5.30pm
More info here

6th November 2019
Irish Humanities Alliance – MW launches the IHA's Humanities Strategy: "By imagination we live: A strategy for the humanities, 2020–2030", Royal Academy, Dublin.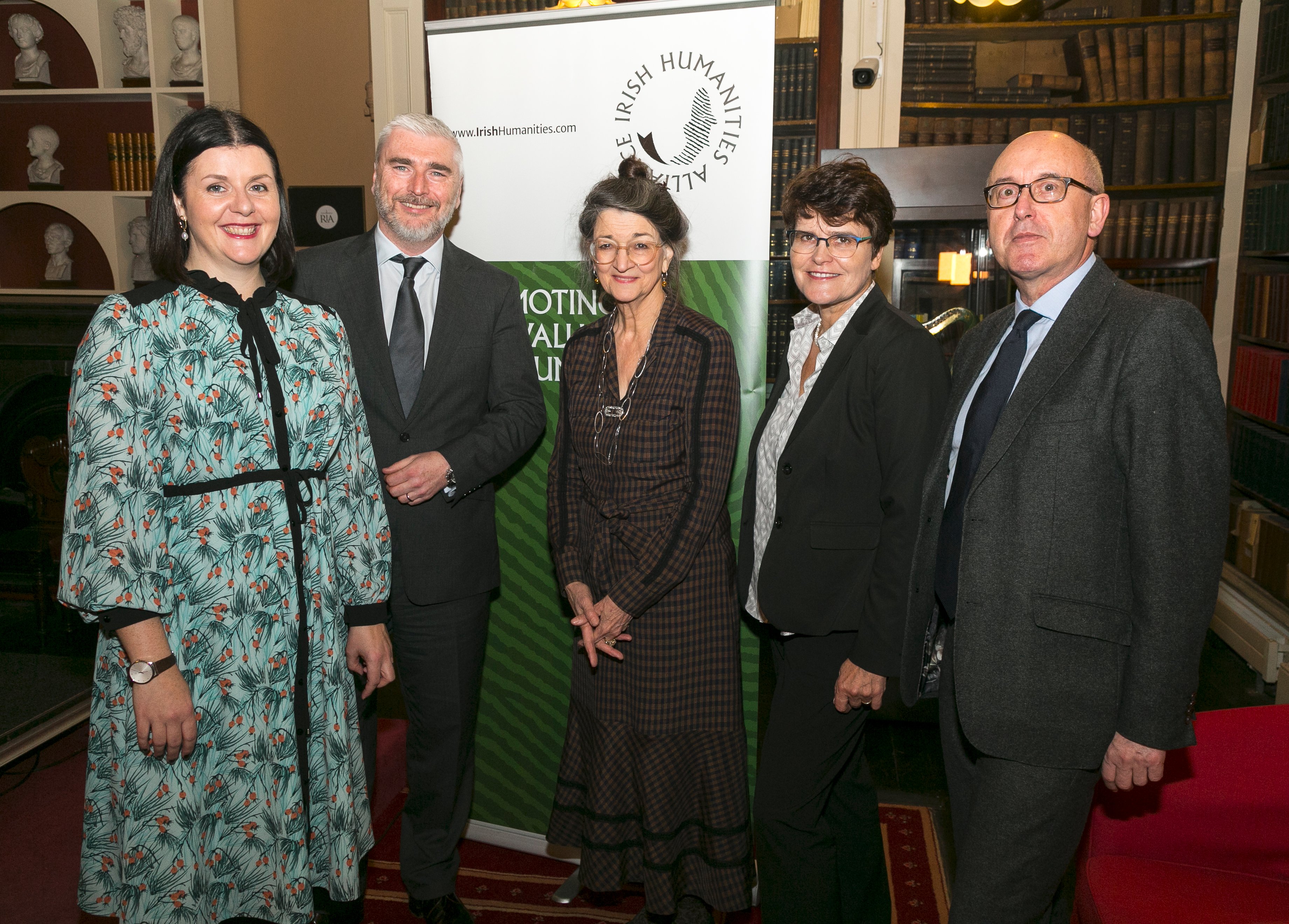 Further information can be found here. An interview with Marina on the occasion was broadcast on RTE Radio and can be listened to here.
30th October 2019
Marina gives the Barbara Harrell Bond Memorial Lecture at the Refugees Studies Centre, Oxford
A recording of the lecture is available here.
25th October 2019
Marina gives the Denis Mack Smith Memorial Lecture at Italian Institute
23rd October 2019
Thinkers for Our Time – Christina Rossetti at the British Academy
Marina in conversation with Isobel Armstrong of the series

22nd October 2019
NYRB Classics Anniversary – Literature: Past as Future, Foyles Bookshop, London
27th September 2019
Book launch – Simon Moretti – The Enigma of the Hour which includes Marina's essays 'Laughing Grief'
25th September 2019
Blackwell's Bookshop Marina Warner 'Why words matter: The life of stories in dislocated times'
MW will talk about literature as border crossing, a site of exchange, and a way of making a community of fate
21st September 2019
Berlin talk, info tbc
Fata Morgana: Fairy Visions of the Mediterranean from Marina Warner
Sicily, the largest island in theMediterranean, has verb a site of exceptionally rich cultural exchange. In the 19th century, Laura Gozenbach began collecting local fairy tales and translating them into German; er publication influenced the course of the European fantasy. She herself was inspired by the activities of Giuseppe Pitre, a doctor from Palermo and a pioneer of literary ethnography. Marina Warner will sift their remarkable anthologies and draw out the interactions of Arabic, Arthurian, and romance traditions, with a special focus on tase about the world under the sea, where Morgan Le Fay, King Arthur's half-sister, who conjures illusions of castles in the air over the Straits of Messina.

15th-17th September 2019
Migrant Knowledge, Cambridge – Workshop held on morning of 16th September
People, things, ideas and languages have crossed borders since the earliest of times. Such passages have entailed epistemic shifts and encounters, transactions and transformations. A Crossroads of Knowledge initiative, this public event brings together scholars, artists and activists to think about migration and what it does with, and to, knowledge. In tune with the Crossroads project, we begin in the early modern world, but move freely across periods to dwell on the urgent experience of migrancy in our own times. We aim to acknowledge the many meanings of 'migration' and 'knowledge', to probe the history of their interrelation, and to use our imaginative engagement with crossings of knowledge in its many forms.
The five-year ERC-funded project, Crossroads of Knowledge in Early Modern England: the Place of Literature, is based jointly in the Faculty of English and CRASSH, at the University of Cambridge. Convened by Subha Mukherji (University of Cambridge), Rowan Williams (University of Cambridge), Natalya Din-Kariuki (University of Oxford), Carla Suthren (University of Cambridge) with the Crossroads of Knowledge project. 
29th August 2019
A Festival of Colchester – Marina Warner 'Beyond the Visible: Art, Artists and Enchantment'
Marina gives a talk about Forms of Enchantment at First Site Colchester
22nd August 2019
Marina gives talk at Golden Hare Bookshop
21st August 2019
Thinking with art: Marina Warner at Edinburgh International Book Festival
A new collection of essays by Marina Warner uses the tools of literary thinking to analyse art and artists, drawing on anthropology, mythology and more. In Forms of Enchantment, the President of the Royal Society of Literature approaches works by artists like Louise Bourgeois and Hieronymus Bosch, asking what effect they can have in the world. Warner discusses her ideas with Fruitmarket Gallery director Fiona Bradley.
'Cuentas de Hadas' the Spanish translation MW's Once Upon A Time, is published by Larrad Ediciones (2019)
Marina has been made a Critical Friend of MULOSIGE
'MULOSIGE seeks to build relationships with other scholars to critique the work of the project, creating a network of scholars working on world literature and its multilingual aspects. We are grateful for the support and deep insights provided by our critical friends, who are based in institutions around the world.'
17th August 2019
BBC Proms Plus Talk at Imperial College Union – 'Wish Upon a Tsar – The Power of Russian Folktales' with Marina Warner and Sophie Anderson"
Russian folktales – such as 'Baba Yaga', about a demonic woman – continue to influence Slavic life and culture. Young Adult author Sophie Anderson, whose book 'The House On Chicken Legs' is based on the Baba Yaga story, tiptoes into the woods with Marina Warner, author of Once Upon A Time: A Short History of Fairytale.

Proms Plus: Russian Folktales – BBC Radio 3 Arts & Ideas
Enter a world where huts walk on chicken legs, fish grant wishes and Baba Yaga sharpens her iron tooth with writers Marina Warner and Sophie Anderson. Presented by Victoria Donovan and first broadcast on 21 August 2019
https://www.bbc.co.uk/programmes/p07l6fkk
5th August 2019
'Marina Warner: In Trinidad' for London Review of Books Blog

12th July 2019
In Conversation: Luminary Drawings: Portraits of Film Directors at National Portrait Gallery
Artist Nina Mae Fowler talks to film critic Simran Hans about her new display of portrait drawings of leading film directors and the sittings in which each was depicted whilst watching a film of importance to them. They will be joined by one of her sitters, director Asif Kapadia, and Dame Marina Warner, former Trustee of the National Portrait Gallery who proposed the commission of the drawings.
4th July 2019
Talking Maps – Opening address at exhibition, Weston Library, Bodleian
Drawing on the Bodleian's unparalleled collection of more than 1.5 million maps, this exhibition brings together an extraordinary selection of ancient, pre-modern and contemporary maps from a range of cultures and in a variety of formats as well as showcasing fascinating imaginary, fictional and war maps.
June 2019
Marina has contributed 'Hero and Heroine' to 'Orlando – guest edited by Tilda Swinton, inspired by Virginia Woolf' the Summer edition of Aperture Magazine, Summer 2019, Issue 235, p86.
15th June 2019
Enchanted States: The Vision of Fairy Tales Marina Warner in conversation with Catharine Morris
The ZEE Jaipur Literature Festival 2019 at British Library
Art writing at its most useful should share the dynamism, fluidity, and passions of the objects of its enquiry, argues Marina Warner in her new anthology Forms of Enchantment: Writing on Art and Artists. She captures the visual experience of the work of a diverse group of artists―with a notable focus on the inner lives of women―through an exploration of the range of stories and symbols to which they allude in their work. In conversation, the award-winning critic discusses her writing, artists and the social, political, and aesthetic contexts of art. Introduced by Catharine Morris, the award-winning critic discusses her writing, artists and the social, political and aesthetic contexts of art.
Presented by Bagri Foundation

6th June 2019
Stories in Transit, Oxford
More info soon
31st May 2019
Words on the Move 4: The Digital Body – Birkbeck Institute for the Humanities
This workshop series explores potential forms of expression in different media for displaced people today; this one looks at embodiment in digital space.
Speakers: Mustapha Conteh, Ibrahim Ture, Adam Stark, Kate Daudy, Alex Reuben And Chris Frith, Dana Naomy Mills. Chairs: Marina Warner, Steve Willey, Luke Williams
In collaboration with creative writers in The West Bank, Palestine, the Akwaaba group in Hackney, and refugees living in Palermo, Sicily, this workshop will explore how mapping and walking can help stimulate stories, made from memories and imagination, and connect individuals who have lost their homes. Together with artists, dancers, designers and writers, they will explore the issue of dematerialisation on the web, of AI as a site of potential expression, of prosthetic and cyborg enhancement, and explore virtual media as an unexpectedly productive zone of haptic knowledge ; we shall reflect upon the multi-media character of internet communications as a para-linguistic, polyglot, macaronic arena where exchanges can take place between people without languages in common through embodied systems of sound, and movement. Rather than announce the end of humanity, the speakers will explore the possibilities that computerised conjunctions of bodies, code, and virtual representations offer in conditions of dislocation and isolation. The series of workshop forms the theoretical arm of the project Stories in Transit, which has been working with asylum seekers in Palermo, Sicily, since 2016.
Image: Broomberg & Chanarin, 'The Painter's Wife', Spirit is a bone, 2013
29th May – 23rd February 2020
Say Shibboleth! On Visible and Invisible Borders – 
Marina contributed to the catalogue 'Say Shibboleth! On Visible and Invisible Borders' opening at Jüdisches Museum Munchen

Despite talk about globalization and international community, new borders, fences, and walls are erected all over the world—around states, occupied territories, and gated communities, between public and private spaces. Some of these borders are visible, others are drawn by means of language tests and biometric methods. Borders and cultural codes spell the difference between life and death, "identity" and "alienness," belonging and exclusion. They determine the right of people to move from one place to another or even to be in any particular place at all.


Contributions by: 

Lawrence Abu Hamdan (London/Beirut), Francis Alÿs (Mexiko-Stadt), Ovidiu Anton (Wien), Emily Apter, Zach Blas (London), Sophie Calle (Paris), Arno Gisinger (Paris), Zali Gurevitch, Vincent Grunwald (Berlin), Gabriel Heim, Katarina Holländer, Ryan S. Jeffery (Los Angeles), Leon Kahane (Berlin/Tel Aviv), Boaz Levin, Mikael Levin (New York), Hanno Loewy (Hohenems), Fiamma Montezemolo (San Francisco), Pīnar Öğrenci (Istanbul), Selim Özdogan, Anika Reichwald, Fazal Sheikh (Zurich), Quinn Slobodian, Frances Stonor Saunders, Vladimir Vertlib, Najem Wali, and Marina Warner. Catalog accompanying the exhibition in the Jewish Museum Hohenems from March 18, 2018 to February 17, 2019. 
The exhibition will be on display again between 29th May – 23rd February 2020.
24th May 2019
Birkbeck Arts Week 2019: Opera of the World (2017) 
This remarkable film directed by Manthia Diawara, tells the story of the making and performance in Mali of poet and dramatist Koulsy Lamko's Bintou Wéré: A Sahel Opera. Roger Malbert introduces with Marina Warner. Monika Szewczyk writes: 'Diawara's cameraman captured the dramatically lit and ritualized scenes of village elders and proletarians—among them the Bintou Were herself, pregnant with child and protecting herself from suitors who, like the man who raped her, wish to take advantage by claiming fatherhood—as well as the smuggler who seduces these desperate people northward…In the course of the film, one crosses into the world of opera from the tradition of sung wisdoms and sentiments, which has characterized West African culture for centuries… [Manthia] asks us to tremble together, upholding the words of the Martinican poet, philosopher, and his dear friend, Édouard Glissant.' In French with English subtitles.
22nd May 2019
Birkbeck Arts Week 2019: Siren voices with Aura Satz – rewiring memories of technology
With Marina Warner, artist and Royal School of Art lecturer Aura Satz will discuss her project 'Preemptive Listening', a sound and film work on siren signals in relation to hyper-vigilance and emergency. Satz is working collectively with musicians, historians, philosophers, neuroscientists and more to explore the siren sound as a perceptual trigger of high alert, structuring attention in a state of emergency and inducing affective states of fear and dread, but also as a compositional signal operating at the threshold between civil obedience and disobedience. She posits the siren's loud glissando wail as a conditioned and learned signal, one that can potentially be rewired. This event is part of Birkbeck Arts Week 2019
Birkbeck Arts Week 2019 – The full programme can be found here.
20th May 2019
If, on a summer's night, a traveller… Stories in Transit Workshop – Community event at Elephant West
Creative Imaginative Play with Marina Warner and guests from Stories in Transit
You are invited to an afternoon/evening of creative workshops exploring themes of journeys and migration through imaginative play and collaborative storytelling, bringing stories to life with drawing, printmaking, music, puppets and movement. With Marina Warner from Stories in Transit, Bobby Lloyd and Miriam Nabarro from Art Refuge UK, storytellers, artists, dancers and musicians the event will take place at Elephant West. This drop-in event will be open to everyone from the local community, across London and beyond: children, families, teenagers, adults, artists, writers, storytellers, researchers, poets, community workers, office workers ….
These workshops will begin with a story from the Arabian Nights, about someone who dreams the clues to finding lost treasure. This will act as a starting point for a new set of imagined stories created by you! Cyanotype (sunprint) and experimental mono-print with Bobby Lloyd and Miriam Nabarro from Art Refuge UK. The artists will introduce the printing processes of cyanotype and mono-print to explore place, journeys, maps and migration – using ink, water, tape, toy vehicles, tracks, objects, cloud and hopefully sun!
11th-12th May 2019
'Critical Thought in Times of Attrition' A University Weekend at Birkbeck
University of London, at the heart of London's Bloomsbury, in collaboration with The London Review of Books
Over the past few years, political events – Brexit, Trump, austerity, the rise of neo-fascism and rascal across the world, continuing violence against women, climate change, the ongoing exploitation of the Global South – have cast a dark shadow over the world, making it all the more urgent for intellectual life to preserve a space for dissent.
Marina has contributed
'Dream'
to Laure Provost's 'Legsicon' published by Book Works (2019)
1st – 5th May 2019
Announcing the 2019 OCM Bocas Prize for Caribbean Literature Shortlist

'Books by three writers from Trinidad and Tobago have made the shortlist for the 2019 OCM Bocas Prize for Caribbean Literature, sponsored by One Caribbean Media.This is the first time in the history of the prize, first awarded in 2011, that writers from a single Caribbean country have won all three genre categories, forming the shortlist for the overall award. The three books will now enter the final round of judging, and vie for the overall award of US$10,000, to be presented on 4 May during the 2019 NGC Bocas Lit Fest.'
The final cross-genre judging panel for the prize, chaired by the celebrated writer Marina Warner, includes poet Geoffrey Philp, scholar and writer Jane Bryce, and journalist and editor Gary Younge.
Marina Warner's Bocas Judge's talk can be read as a PDF here.
2nd May 2019
Bocas Lit Fest 2019 -Take Two: Marina Warner and Abigail Parry
Marina Warner (Fly Away Home) and Abigail Parry (Jinx) read from their stories and poems inspired by a rich tradition of fairy tales, folklore, spells and curses; chaired by Shivanee Ramlochan.
Stream the readings here
Marina has written the introduction to Robert Kirk's The Secret Commonwealth: Of Elves, Fauns, And Fairies (New York Review Books Classics) re-published in paperback in May 2019 (NYRB Classics), pp vii-xl
Marina helped to commission
'Luminary Drawings Portraits of Film Directors by Nina Mae Fowler'
,opening at National Portrait Gallery from 12 April – 1 October 2019
This display unveils a major new commission of portrait drawings of leading film directors by the artist Nina Mae Fowler (b.1981). Each director was depicted whilst watching a film of importance to them; intriguingly their film choice is not revealed. With their faces illuminated only by the light of the screen, Fowler took several stills of the directors and made preliminary sketches that formed the basis of the final pencil and charcoal drawings. The intimate scale of the works draws the viewer into the minds of the people behind the lens, conveying the inspiration felt by the directors when watching great cinema.
Marina contributed to BBC Culture website feature 'Is it time to rewrite fairy tales?' by Hepzibah Anderson
'Many traditional children's stories are criticised for gender stereotyping and questionable morals – but is this really the case? Hephzibah Anderson takes a look.'
4th April 2019
The New School University Center
The Center for Public Scholarship at The New School invites you to it's 38th Social Research Conference.
From the earliest moments of humanity's search for answers and explanations, we have grappled with the unknowable, that which we are unable or not permitted to know. What does the history of the unknowable look like? What are the questions once thought to be unanswerable that have been answered? Are there enduring unknowables and if so, what are they?
22-31 March 2019
MW contributed to  Pripovedovalskifestival the 22nd Story-telling festival in Slovenia.
'Marina Warner will enrich the Festival with her critical thought and present her current research on Friday, 22 March, Saturday, 23 March, and Monday, 25 March.'
Spring 2019
Marina Warner becomes patron of The Story Museum, Oxford
23rd March 2019
Marina Warner at Essex Book Festival 2019
18th March 2019
Ali Smith and Marina Warner in conversation chaired by Jacqueline Rose (Birkbeck Institute for the Humanities)
Clore Management Building, Torrington Square, London, WC1E 7HX
Ali Smith and Marina Warner are writers who have both engaged with the issue of refugees and migrants in our time. Ali Smith has been centrally involved with the campaigning group Refugee Tales, which publishes the stories of individual refugees about their experiences of migration, trafficking and detention. Its main target is ending indefinite detention in the UK. Through Stories in Transit, a project which began in 2016 in Palermo, Sicily, Marina Warner has worked with refugees there and in London, trying to develop a method and establish a forum for expression, narrative and performance. Both are trying to take part in creating 'a language of welcome' at a time when policies of this government here and elsewhere are seeking to normalise xenophobia and intolerance. In this conversation they will discuss the work to be done to generate spaces of potential understanding and modes of resistance around one of the most vexed issues of modern times.
March 2019
Interview with Marina Warner in The Thinking Woman by Julienne van Loon (New South, 2019), chapter 5, pp 149-184
'One of the age-old questions of philosophy is what does it mean to live a good life? In this extraordinary book, scholar and writer, Julienne van Loon, applies a range of philosophical ideas to her own experience. Van Loon engages with the work of six leading contemporary thinkers and writers — Rosi Braidotti, Nancy Holmstrom, Siri Hustvedt, Laura Kipnis, Julia Kristeva and Marina Warner — through interrogating and enlivening their ideas on love, play, fear, work, wonder and friendship.
Her journey is intellectual and deeply personal, political and intimate at once. It introduces readers to six extraordinary women whose own deeply thoughtful work has much to offer all of us. They may transform our own views of what it means to live a good life.'
15th March 2019
In Conversation: Dame Marina Warner and Jennifer Scott at Dulwich Picture Gallery
Inspired by the mythic symbolism of Harald Sohlberg's work, join author and historian Professor Dame Marina Warner and Jennifer Scott, Dulwich Picture Gallery's Sackler Director, for a conversation about mythology and enchantment in the arts.Drawing upon Warner's book, Forms of Enchantment; Writings on Art and Artists, the pair will discuss the work of Harald Sohlberg and the power that symbols and stories have within today's culture.
16th February 2019
Art as fulfilment: the use of religion and spirituality in contemporary art at Royal Academy of Arts, London
The preoccupation with fundamental questions of life is often central to an artist, their work and their audiences. Join our panel, including Marina Warner and Professor Ben Quash, as they examine how artists and the public might "use" contemporary art as a means to express and reflect on religion and spirituality.
Art can challenge our beliefs and provoke debate. For an artist, art can be a place where personal thoughts and beliefs can be expressed and problems can be detoxified. Our panel questions whether an audience can achieve an emotional or spiritual connection through art? Are they more likely to visit a museum than a place of worship? In contrast, what is intended when contemporary art is shown in a place of worship? Can we find meaning in the fundamental questions of life through art? Panellists include writer, historian and mythographer Marina Warner, and Professor of Christianity and the Arts at King's College London, Ben Quash. Further panellists to be announced.
Marina Warner becomes a patron of Sphinx Theatre Company
6th February 2019
Narrative Intelligence – A conversation with Marina Warner, Shezad Dawood and Marc Davis, moderated by Nick Hackworth
The fourth in a series of talks organised by ArtReview and Modern Forms. From the birth of writing to recent developments in VR and the narrative capabilities of Artificial Intelligence, technology has the power to radically alter the nature of the stories that we tell about ourselves and the world. Artist Shezad Dawood and technologist Marc Davis join the writer and academic Marina Warner to discuss the complex relationship between technology and storytelling.

18th January 2019
Loss Sings Arabic Poetry and Stories in Translation: a series of workshops at Birkbeck and SOAS, Presented by Marina Warner and Wen-chin Ouyang
The Keynes Library, School of Arts, Birkbeck College, University of London
In this deeply personal meditation, part prose memoir, part poetry translation, James E. Montgomery explores memory, grief and the consolatory power of words through the prism of his personal circumstances. Cahiers is a series of publications about translation by writer/translators, and in this latest publication, Montgomery refracts his thoughts with renderings of the laments that the 6th-Century poetess al-Khansa' wrote after her two brothers died in battle. The text spans a fortnight, ending on 11 September 2017, 16 years after Montgomery witnessed, from his Greenwich Village window, the haunting and 'strange beauty' of the day's catastrophe. He has commented on the process of making this opuscule: 'Translation is also mourning for what we want to retain, what we value and cherish; it is, equally, mourning for what we know we must lose'.